Our Assembly Capabilities
Surface Mount Technology (SMT)
Five automated surface mount technology placement lines, each configured with:
Surface Mount Screen Printers by Ekra & Juki
VI Technologies Solder Paste Inspection – Inline
A minimum of 4 Juki SMT Placement Robots
Convection Reflow Ovens – Vitronics Soltec
---
Through- Hole
Three – Juki Cube 460 Selective Solder Systems
Press Fit Tool Arbor Press S-3550
---
Wash
Pnuematic Stencil Cleaner KED K-200
Aqueous Wash System Technical Devices Nu Clean Galaxy
Aqua Klean Systems
---
Inspection, Burn-In and Test
Microscopes Lecia MS-5
Microscopes Amscope SM-4TZ-144A
Microscopes Amscope SM-3BZ-80S
Testing/Inspection Tektronix TBS-1064
Tektronix TDS-1002B
BK Precision 1786B
BK Precision 9110 DC power supply
Ideal-Tek ST5S Smart Tweezers
Fluke Multi-Meters
Oven Burn in Yamato Scientific DKN-812 (2)
XACT 4 SI
OmniMax Platform
Vi Technology 5k SPECTRO
3D XRAY: XT V 160

Real-time X-ray allows for intuitive navigation of complex printed circuit boards and electronic components to quickly trace defects. In automated inspection mode, samples can be inspected at the highest throughput.

Flying Probe Testers: Takaya APT-9411

The flying probe test system uses 4 high speed independently moving probes, to detect manufacturing defects on printed circuit boards- eliminating the requirement for a conventional bed-of-nails fixture.
---
BGA Rework
Conceptronic Freedom 3000+
BGA Air-flow system
---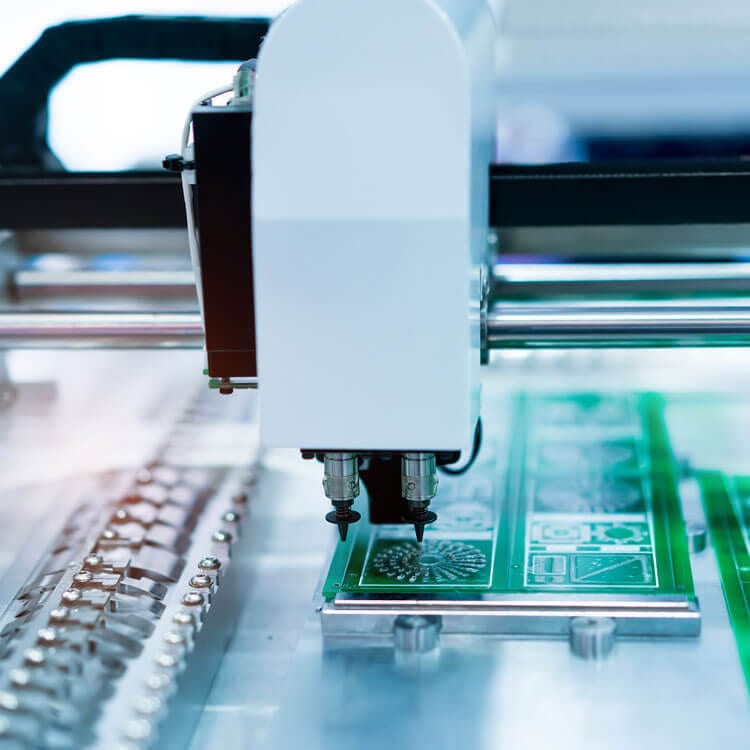 Why Green Circuits
Extensive Knowledge, Proven Quality, Consistent Execution, Full Turn-Key Operations, Established Supply Chain.
Quick Turn Quality PCB Assemblies: Excellence in rapid process engineering and product assembly at both the board and system level
Scalability: Flexible production capability and capacity to ramp from small prototypes lots to full-scale production
Complex Engineering: Multi-disciplinary capabilities solving complex issues. The people, the process, the equipment
Accelerating Time to Market: Responsiveness and service. Quotes in as little as a few hours; 24/7 service and support
Quality and Certifications: A proven Quality Management System and a culture of continuous improvement that pushes the envelope on technology, speed and responsiveness