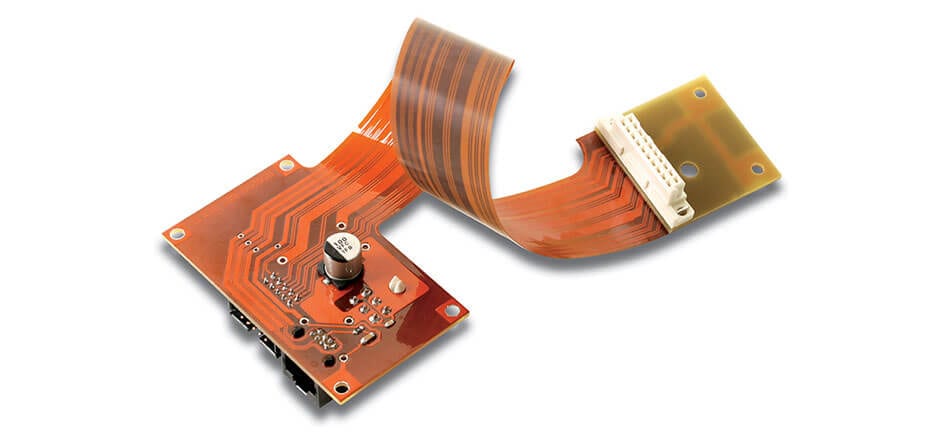 Flexible Circuit Design, Manufacturing, & Assembly
Turn-Key Solutions For Single-Sided/Double-Sided Flexible Circuits
Using the latest flexible circuit equipment and strict quality-control rules, Green Circuits' printed flex circuit capabilities can offer any business fast turnarounds on medium-volume orders. A leader in the printed flex circuit/rigid-flex circuits industry, Green Circuits has designed, fabricated, and assembled printed circuit boards for some of the biggest high-tech companies in the world. Green Circuits offers two types of printed flex circuit options: single-sided flexible circuits and double-sided flexible circuits.
Single-Sided Flexible Circuits
Single-sided flexible circuits are ideal for a number of situations, including unusual folding, forming, or dynamic applications. Consisting of a single copper-conductor layer on a flexible dielectric film, single-sided flexible circuits provide a unique type of printed circuit board for installation or service flexing. Single-sided flexible circuits can be fabricated with or without cover layers. The figure below breaks down the material makeup of single-sided printed flex circuit:
Ultra-thin construction under .004″-.008″ (.10mm-.20mm)
1 Conductor Layer
Reverse bared or back bared pads
Supported and unsupported finger areas
Double-Sided Flexible Circuits
Double-sided printed flex circuits gives designers another level of capability for more complex applications. When an application calls for high-density design and layout, double-sided printed flex circuits ensure a compact, efficient design ideal for such uses as ground and power plane applications. Double-sided flexible circuits can also be commonly found in shielding applications or on a dense surface-mount assembly. The figure below breaks down the material makeup of double-sided flexible circuits:
Double-Sided Flex Circuit Features:
Component assembly available on both sides.
Two conductive layers.
Fingers are an integral part of the conductor patterns. (call GC for details or sample)
Multi-layer Flex Circuits
3.3 mil Flex Circuits
Green Circuits capabilities include entire turn-key solutions for flexible circuits, printed circuit boards, and rigid-flex circuits from design to manufacturing to assembly. Learn more about Green Circuits' Services or contact us for more information.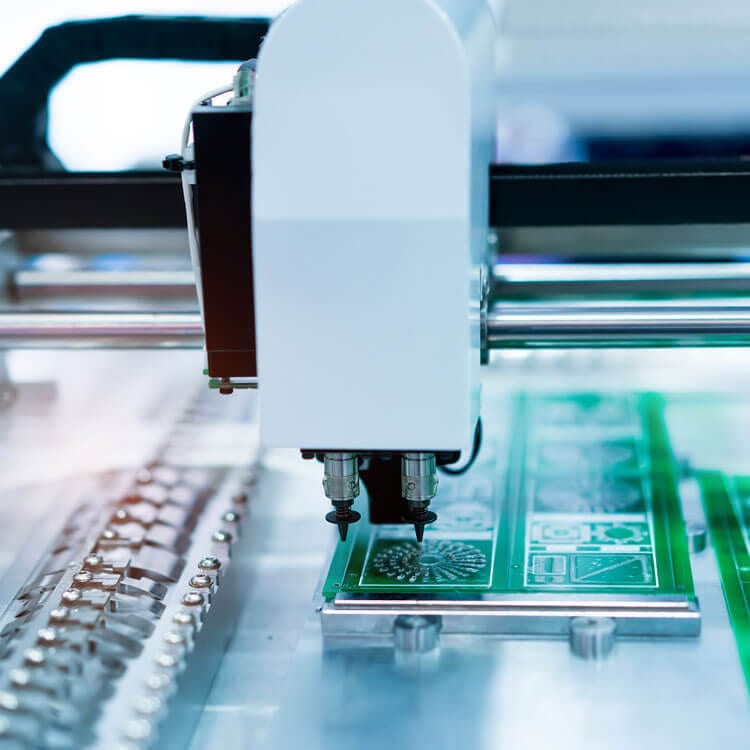 Why Green Circuits
Extensive Knowledge, Proven Quality, Consistent Execution, Full Turn-Key Operations, Established Supply Chain.
Quick Turn Quality PCB Assemblies: Excellence in rapid process engineering and product assembly at both the board and system level
Scalability: Flexible production capability and capacity to ramp from small prototypes lots to full-scale production
Complex Engineering: Multi-disciplinary capabilities solving complex issues. The people, the process, the equipment
Accelerating Time to Market: Responsiveness and service. Quotes in as little as a few hours; 24/7 service and support
Quality and Certifications: A proven Quality Management System and a culture of continuous improvement that pushes the envelope on technology, speed and responsiveness